After entering the lockdown at the end of March, the overriding sense I get from most people is that they are now bored, and looking forward to a return to normal life. Thankfully, the lockdown measures are being eased, albeit at different rates throughout the UK. I was thankful that I was able to take the children over to see their grandparents for the first time in months a few days ago.
I have my fingers crossed that there won't be a second wave, which will dent our own personal morale and no doubt the investment markets as well. Thankfully, as we have seen the lockdowns eased around the world a second wave doesn't appear to have materialised at this time.
In fact, very heartening, the investment markets have continued to rebound from the low point seen in March, when the lockdowns were in force around the world. All the major indices saw positive returns through May, and this has been reflected in your investment portfolios. We are still a way away from the valuations seen at the beginning of February, but hopefully it is a source for optimism.
It never ceases to amaze me how the investment markets at times can seem oblivious to the economic data that is being seen, yet continue to produce positive returns. Of course, the reality is that they aren't ignoring this data, more that this has already been priced into the markets. What adversely affects the global markets, in either direction, is surprising news. An example of this was seen recently when the expert consensus was that the US was going to see unemployment figures pushing 20%. The actual released figures actually showed that there had been a decline, which saw markets around the world increase on this news.
Having said all this, the economic figures that are being released, still take some comprehension as they show the effect this pandemic has had. For instance, the UK saw a drop of over 20% GDP in April.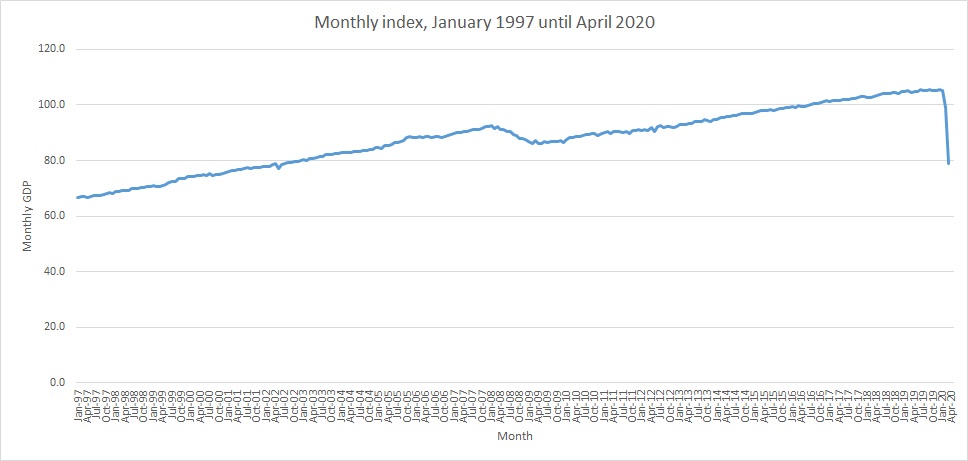 Let's hope that as the lockdown is lifted businesses can start to return to some degree of normal. Although I do think it will take some time and wonder what the 'new normal' will look like for all of us.
Although the global markets have been showing an upturn over the last two months, I still believe it is far too soon to say that we are over the worst. There is still a lot of volatility, and the true cost of this pandemic is yet to be seen. However, we will look to keep you as updated as we can on your investment portfolios during this time. As you know our view is that investment strategies should be for the long term, and that remains the case.
We are all available to speak to you, whether that is to discuss your investments or simply to catch up. Like you, we are all looking forward to being able to get out more, and to see you all in person.
| | |
| --- | --- |
| Richard Brazier – Director – Hanover Financial Management Limited |   |